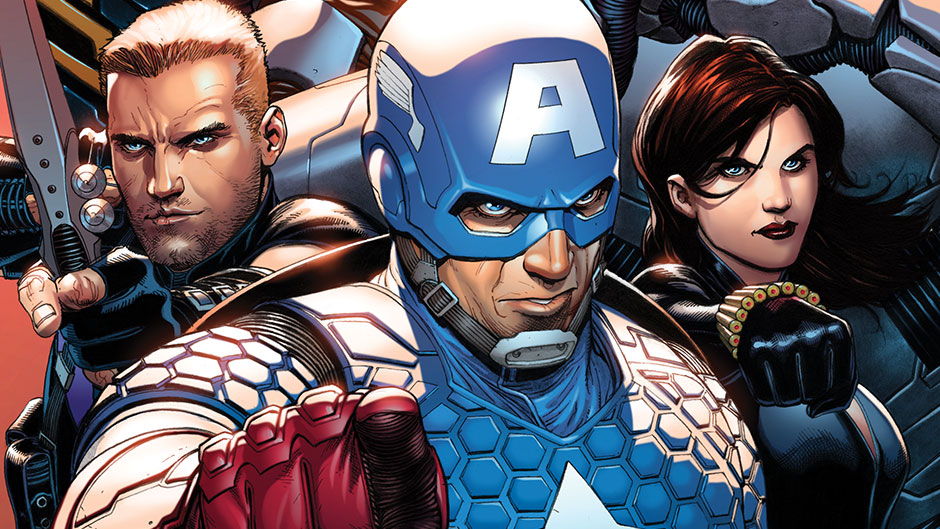 When Thor's evil brother, Loki (Tom Hiddleston), gains access to the unlimited power of the energy cube called the Tesseract, Nick Fury (Samuel L. Jackson), director of S.H.I.E.L.D., initiates a superhero recruitment effort to defeat the unprecedented threat to Earth.
Joining Fury's "dream team" are Iron Man (Robert Downey Jr.), Captain America (Chris Evans), the Hulk (Mark Ruffalo), Thor (Chris Hemsworth), the Black Widow (Scarlett Johansson) and Hawkeye (Jeremy Renner).
This is the Captain America image you've been waiting for.
One day after Marvel Studios' big presentation at San Diego Comic-Con, posters were unveiled for Avengers: Infinity War on the floor at the convention, and artist Ryan Meinerding has shared his creations via Instagram.
Among the three posters: one featuring the Star-Spangled Avenger's bearded look for being on the run from the law following 2016's Captain America: Civil War.
Marvel gave the faithful a big chunk of news about its upcoming superheroine. Captain Marvel (March 8, 2019), starring Brie Larson, will take place in the early 1990s — before the events of the first Marvel Cinematic Universe movie, Iron Man
so Samuel L. Jackson will have both his eyes and the shapeshifting galactic race the Skrulls figure in as the movie's chief villain. Marvel Studios head Kevin Feige also introduced new concept art of Larson in her superhero outfit and punching which drew a huge response from the crowd.
Marvel didn't do anything special for its third Avengers film (May 4) other than show the same footage that played a week earlier at Disney's D23 fan event, when Thor meets the Guardians of the Galaxy for the first time, Spider-Man (Tom Holland) swings around in a spiffy new outfit, Captain America (Chris Evans) emerges from the shadows in a full beard as a fugitive, and Thanos (Josh Brolin) comes to Earth looking to destroy its mightiest heroes.